If you are like me, coffee is the very first thing you think about in the morning. But the cost of coffee is probably the last. I know for many, morning coffee is their one and only ritual. Something about our coffee is just… perfect.
Warm, strong, energetic. I can't think of a better pick me up to get me started with my day.
Is it the fact that caffeine is really just a legal drug? Yes, probably. But I won't get into that in this post. In this post, we are talking the dollars and cents of your coffee habit and how coffee can help you achieve financial independence.
The True Cost Of Coffee
This past weekend, my wife and I went on a camping trip. But it just wasn't any ole camping trip. Nope, this was our first as a married couple and we wanted to go somewhere free.
As crazy as it sounds, it's actually pretty normal here in the Phoenix area to pay between $15 and $30 to sleep on the ground. I honestly can't wrap my head around it but it is what it is.
SO – after much research, we found a dispersed camping spot up near Payson, AZ and headed out.
On our way back from camping, we stopped at one of our favorite coffee shops in Payson, Common Grounds. Believe it or not, in this cute little rustic town, Common Grounds stands among very few true coffee shops. We have always had a great experience here. Yesterday, we bought her a $5 t-shirt there. And the trip before that, we bought a neat sticker for my roof pod from there.
$2.50
For many out there, $2.50 for a cup of pour over coffee is unheard of. And it's for this reason I decided to write about this. My wife and I decided to split our coffee as we like to do when eating and drinking out sometimes. And as we were sitting outside in the 75 degree sunshine, I couldn't help but wonder.
How much more expensive was this cup of coffee than my pour over at home?
To answer this question, I am going to go into detail. Skip to the bottom if you just want the blank take away.
If I am paying $2.50 for a 12oz pour over coffee, how much does my pour over coffee from home cost?
While sitting on this porch, I did the math of simply the cost of beans comparison which I acknowledge isn't a fair comparison. That being said, many people already have coffee equipment and the comparison would truly be just a bean for bean comparison. So I am going to do the math 2 ways.
Scenario 1 – Already Have Coffee Equipment
If you're like me, you already have coffee equipment which means your only real cost of deciding to make coffee at home or not comes down to water and beans.
For the water calculation, it's not even worth addressing because the cost of a gallon of tap water is 1/3rd of a penny and this would unnecessarily complicate things. More on tap water vs bottled water in another post.
For the bean calculation, I am using the cost of my last purchase of coffee beans from Costco -Mayorga Organic Café Cubano, USDA Organic, Dark Roast, Whole Bean Coffee. I paid $7.99 for a 2lb bag of these beans. That's roughly $8.55 after tax.
I use a 2 tbsp scoop for beans which is about 14g of beans. That means, counting bean cost alone, that my coffee from home costs me $0.13 per 12 oz pour over cup.
Scarier yet, that means that it would take me 19 days of coffee from home to reach the cost of my single coffee out. That's over two weeks.
The Frugal Feline Future Value
Many don't know, but the Guinness book of world records has the oldest cat living to age 38 which seems an appropriate life to value this coffee exercise.
So, let's say you decide to make coffee at home for the next 38 years as opposed to buying coffee from a shop. If you were to invest the difference in your cost at an 8% return for the next 38 years, you would have saved a total of $32,421 and your investment would be worth $187,973.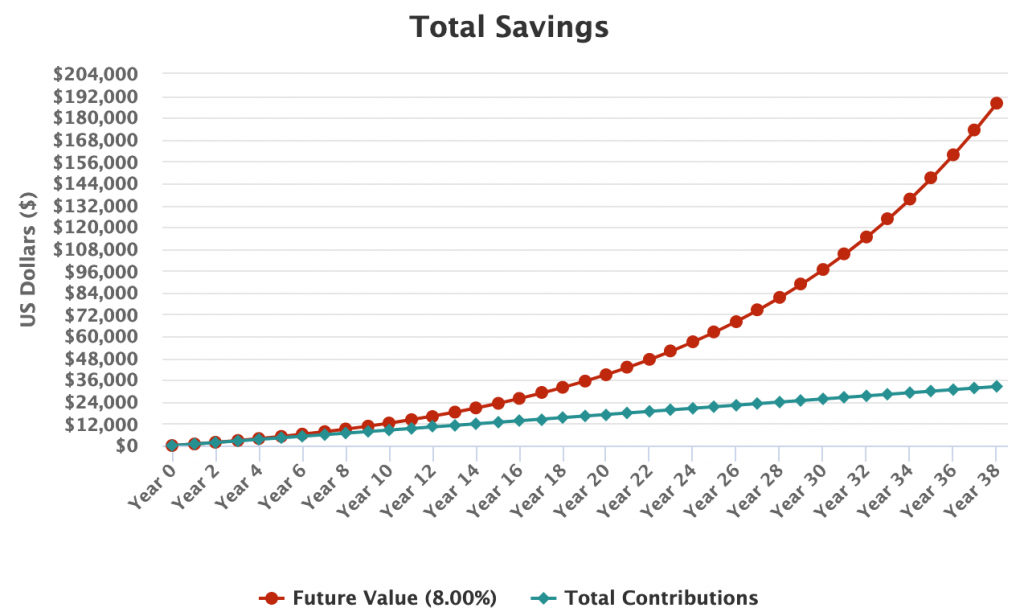 Scenario 2 – Still Need Coffee Equipment
For this example, I am going to assume you are like me and you're not wanting to drink your coffee from a Mr. Coffee for the next 38 years on your path to financial independence. In that case, you'll need the same setup as me.
---
My Equipment
Coffee Bean Canister – $28
Amazing way to store coffee beans and make your precious investment last longer. I've had mine for well over 3 years and it's as good as new.
Hario V60 – 02 Pour Over – $23
I'll be honest, these ones do tend to break if you drop them (as do many things I suppose). I've had both glass and ceramic before and I'll probably go back to glass as it is more hearty.
Hario V60 Paper Coffee Filters, Size 02, Natural, Tabbed, 200 Count – $14
These can be found many places. You don't need the Hario brand, and you don't need brown. But this is a necessary evil of making a good cup of pour over coffee.
Baratza Encore Conical Burr Coffee Grinder White – $139
I used to use a $20 hand burr grinder. It took me about 2 minutes every time I wanted to make a cup. Trust me when I say this one is worth the splurge. Fresh ground coffee beans will make it easier to stick with your coffee from home habit.
Gooseneck Pour Over Coffee Kettle, ENLOY Coffee Kettle Use for Drip Coffee and Tea, Stainless Steel Pour Over Kettle with Fixed Thermometer for Exact Temperature (34 oz) – $25
This is the most amazing kettle I've ever used. I take it camping. I use it for both tea and coffee. It's an amazing device, but you can still find cheaper out there should you be willing to sacrifice the Thermometer cap.
---
And that's it! So fixed cost-wise, you're looking at about $215 of equipment which includes your airtight storage container, brewing mechanism, electric burr grinder, and gooseneck kettle. I think it's worth noting here that I did not try to save money on any of this stuff. This is the quality you will see at your local coffee shop so there is plenty of room for savings in equipment.
Now, let's add the cost of filters to our variable costs which brings our variable cost per cup of coffee to $0.20 ($0.07 for filter and $0.13 for beans). Then, let's assume that this equipment will on average last 3 years. If you spread the cost of these items over each cup of coffee for the next 3 years, you're looking at an extra $.20 per cup (surprisingly) for an arguably very bougie home coffee setup. (Remember, I did not try to save money on my equipment, if I'm brewing from home, I want it to be just as good if not better than the average coffee shop.)
Now factoring in the cost of equipment, you're looking at $0.20 for filters and beans per cup and $0.20 for equipment per cup assuming a life of 3 years. Making your coffee at home will cost you about $0.40 per cup versus a cheap cup of coffee from a coffee shop of $2.50.
The Frugal Feline Future Value
So, let's say you decide to make coffee at home for the next 38 years as opposed to buying coffee from a shop. If you were to invest monthly the difference in your cost ($2.10/day) at an 8% return for the next 38 years, you would have saved a total of $28,728 and your investment would be worth $166,558.85.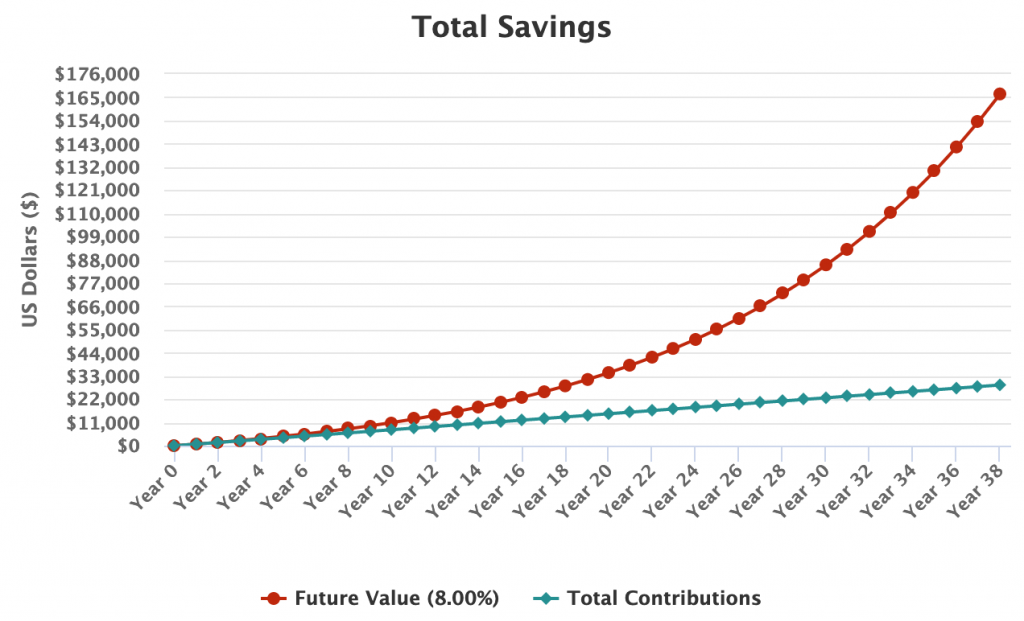 The Frugal Feline Future Value – Single Cup
For me, it's always helpful to think what savings would be for a consistent habit of behavior change. I also am typically curious about the future value of a single decision. For example, say you only go out to coffee every once in a while. What is the future value of that $2.10 saved if I put that in an investment account for the next 38 years?
That single decision to sacrifice the cup of coffee now and instead make it at home and invest the difference will represent $39.11. Is that a massive amount of money? Heck no! But that single decision to make coffee at home does have a big impact, especially if it becomes a habit.
The True Cost of Coffee
It's worth pointing out here that many people spend well over $2.50 on their cup of coffee out. But I don't want to exaggerate the example here. The truth is, the average cup of coffee is at least $2.50. And if you make it at home, even with bougie equipment, you're looking at $0.40 a cup. So, the simple decision to make coffee at home and save the difference for the next 38 years will result in $166,558.
That's what I'm all about right there. Notice I didn't even tell you to stop drinking coffee. I simply recommend making it at home for a drastic change in your retirement nest egg.
Signing off,
Your Friendly Frugal Feline.