Quite often, my posts are about pointing out ridiculous things we waste money on when we could simply substitute for something of equal or better quality at home. But this is not one of those posts. No, this is actually a recommendation for those who are wanting to find long term success in moving to a frugal life. So, let's talk happy hour savings and why I believe it's a critical part of your frugal future.
The Happy Hour Savings Are Real
Happy Hour is a beautiful thing. Now, historically, I always thought that anyone who was crazy about happy hour must be an overworked alcoholic who spends half of their workday's earning slamming Moscow Mules at the bar with their equally unhappy co-workers.
And, while this might be true for some, this is not true for the frugal feline. I will tell you from experience that one of the hardest habits to break is our eating and drinking out habit. Especially for people who work from home (like me!). There is something in our DNA that seeks to get dressed up, look cute, and go out to do something. And in the time of quarantines, working from home, and limited social gatherings, I can't think of a more difficult time to kick our eating out habit.
And This Is Where Happy Hour's Come In.
Happy hours might be for the overworked alcoholic stereotype, but it's also for the budget conscious, long-term-committed frugal community. You'll notice that none of my recommendations are "Cut all expenses except for food and shelter and sacrifice for 10 years of your young life eating Ramen!" No, it's too easy for me to say, "Cut this! Cut that! Stop eating out! Quit going to the bar with your friends! Stop buying new clothes!"
That's the easy stuff. And while we can all get on board for a few weeks or months, the truth is, that strategy doesn't work long term. Spending money is a part of the human experience, and it's really hard to completely cut it out for an earlier retirement.
And that's what makes me so happy about Happy Hours. See, you still get to go to your favorite restaurant. You still get to get dressed up and look cute, you still get to get your favorite cocktail and appetizer. You still get to spend money. But with happy hours, it's just less money. The same experience, on sale. It's like trading your Whole Foods Market grocery habit for a Walmart or Costco grocery habit. It's like trading your Lululemon habit for an Athletica or Gymshark habit. Same experience, but less money.
Why Happy Hour
I truly believe that taking advantage of your local Happy Hour scene will help you stay the course, long term, on your budget and financial independence goals. Trust me when I say, the only thing that tastes better than a $7 pint of Lagunitas is a $4 one.
Now that I've attempted to make the case for giving happy hour a try, let's talk details on how to execute this strategy for saving money flawlessly.
How to Take Advantage of Your Local Happy Hour Scene
First, realize that you will now have to start planning ahead to take advantage of happy hour savings. As with many things, in order to be frugal and save money on every day expenses and experiences, you have to plan ahead.
Want to save money on food? You have to plan ahead and cook from home which requires time and grocery store strategy.
Want to save money on coffee? You have to plan ahead and wake up a little earlier and invest in some equipment, expertise, and coffee beans.
Want to save money on food and drinks out? You have to plan ahead and decide when you're going to go, who you're going with, and where you're going to go.
In fact, planning ahead is really at the core of everything regarding financial independence if we really think about it. We plan ahead to save money, invest money, and learn about money.
Planning ahead is a core part of achieving financial independence. It's really at the core of everything.
Anyway, now that I'm off that rant, let's talk about how I've found the best happy hour savings in my area.
Step 1 – Find the Spot
Google Search
Simply searching "Best happy hours in Old Town Scottsdale, AZ" is the search that led my wife and I to save hundreds of dollars each month over the last 4 months. Take advantage of those who have gone before you and found the hidden gems in the happy hour scene. Trust me, they are out there. This is an excellent tool to find long lists of different places to go for happy hour. You might even find new favorite spots that you would never try normally due to the crazy costs of their non-happy hour menus.
Visit Your Favorite Spots Websites
A google search might give you some new ideas. But remember, I always advocate to simply adjust our behavior to save money, not completely uproot it. If you already have a favorite spot, visit their website and look for a happy hour deal. Most places will have a happy hour menu if they do offer a happy hour. But some of the best opportunities are for hole-in-the-wall type establishments. And those are less likely to update their website with special menus if they even have a website in the first place.
Google Maps Reviews
Not having any luck with bar and restaurant websites? Open up Google Maps and search for the restaurant or bar that you're trying to find the happy hour for. What I've found to be helpful is actually searching the reviews for "happy hour" and seeing if it's mentioned in the comments. If it is, it's likely they have one even if they don't mention it on their website. Otherwise, it's a good sign they don't have one and you might have to look elsewhere.
Step 2 – Pick a Day & Time to Go
The thing about happy hour is, well, just that – it's an hour or a few each day. Or sometimes just a few hours a few days a week. So in order to take advantage of the food & drink clearance sale, you need to plan ahead and get it on your calendar.
For me, my wife and I both work, we have to find a day where she isn't working in the afternoon in order for us to both be able to go. For you, I'm sure it will require similar planning.
But trust me, it's worth it! Nothing feels better than going to a happy hour to get some fun drinks and a fun app without spending more than a $20 bill. My wife and I commonly spent 5x that on a dinner out.
So, once you've found the place, decide when you'll go and get it on your calendar. If you wait until you get off work and want to go that day, you likely won't have enough time to thoroughly enjoy it as you'll be rushing to get there and trying to find someone to meet you last minute. This is a losing strategy. Plan ahead and get it on your calendar.
Step 3 – Enjoy it!
I know this one sounds lame, but it's an important part of this whole thing. The truth is, once you've done your homework and found a great happy hour spot. And once you've schedule it with your spouse, friend, or romantic interest, you deserve to go and enjoy the discounted prices. Get a couple drinks! They're probably half off. Get a couple fun appetizers! They're also usually much much cheaper than normal. You can either maintain your former consumption and pay half, or double it and pay what you used to. Either way, it will feel amazing because you know you've done the work to be smart about what you're spending and not pay the full retail price.
How Much Do We Actually Save On Happy Hour
Now that we've discussed the case for happy hour and how to execute a great happy hour experience, let's talk dollars and cents. Yes, it's true that you will always save money on happy hour by at least matching your prior consumption. And, it will feel better because it's cheaper and you're saving money. But how much money are we really talking when it comes to happy hour savings?
I'm going to use a personal example of what works for me. This is one of those things that's really difficult to generalize as it varies from city to city and person to person. So, let me briefly explain to you what my wife and I do to enjoy happy hours, save money, and still eat really well.
Previous Date Nights
My wife and I, like most people, typically reserved our date nights for prime time – Friday and Saturday nights. We got dressed up, made a reservation, still waited in line because it's Old Town Scottsdale (facepalm), then ate and drank a pretty decent meal for the cost of our entire week's grocery budget.
The last memorable date night we had was at The Herb Box. It's an organic restaurant that serves drinks and an American type menu. Let me give you a run down on what we paid.
2 Beers for me at $8 – $16
1 Cocktail for my wife – $13
Appetizer: Crisp Brussel Sprout Chips – $13
Entree 1: Butternut Squash & Corn Enchiladas – $18
Entree 2: Arizona Grass Fed Burger – $19
It doesn't seem to bad right? Nothing fancy, I mean, we ordered a burger for goodness sake. But to be honest, the food sucked. The brussel sprout chips were shredded brussel sprouts coated with salt and burnt to a crisp. It was the equivalent of eating 5 brussel sprouts and about 1 tablespoon of sea salt.
And the entrees? They were, okay. Not great, not terrible. The portions were small and the food was mediocre.
This was the last time my wife and I did our formal 'Date night dinner out'. We were so disappointed because we spent our entire week's eating out budget on one meal which was wildly disappointing. Worse yet, our subtotal before tip was $85.32.
Eighty-five dollars! With a 20% tip that brought our total cost of that one meal to $101.12.
This was a common spend on date nights for my wife and I until we had enough of our stupid-high eating out spending while only eating out 1x a week.
Current Date Nights
Now, this won't work for everyone. But this works for us and I think it's an idea worth sharing.
Nowadays, my wife and I will do 1 or 2 date nights a week, but the date nights look a little different.
First, we get ready and dressed by 5:30 and head over to Hulas in Old Town. Hulas has great Hawaiian food and a KILLER happy hour. We go sit at the bar and I get a couple beers ($4 per pint) and she gets a fun cocktail ($6 for the Hulas Mai Tai). But we don't stop there. What happy hour would be complete without a fun snack to go along with it? So we splurge for a large basket of the best sweet potato fries you've ever had at $5 per basket.
We get a bill for $19 plus tax, tip 20% and leave spending a total of $24.52. We get home at about 7PM, either heat up leftovers from the night before or make dinner from scratch, watch a movie on netflix, and call it a night.
It's not quite the same, but the food is better, the experience is similar, and our stomachs thank us for not overloading them with salt. This works for us, but it might not work for all.
Either way, it's just an example of how you can use happy hour to still feel like you're getting out and getting to experience fun drinks at fun places without completely shattering your budget each month.
What are the savings?
I know I told you we'd talk dollars and cents, so let's do it with my own example here.
Previously, my wife and I never went to happy hours and we'd end up spending anywhere between $60 and $100 eating out each time. We typically ate out between 4 and 7 times a week spending a total of $500 – $700 on eating out.
Now, by going to happy hour then eating our main entree at home, we spend about $30 total on date nights and spend between $100 and $200 on eating out while only adding a little bit extra to our grocery budget ($50).
By simply changing our date night habit, we save no less than $60 each date night which is at least 1x a week. That's $240 a month. Now, what's this $240 a month in savings really worth? That sounds like a job for the Frugal Feline Future Value calculation.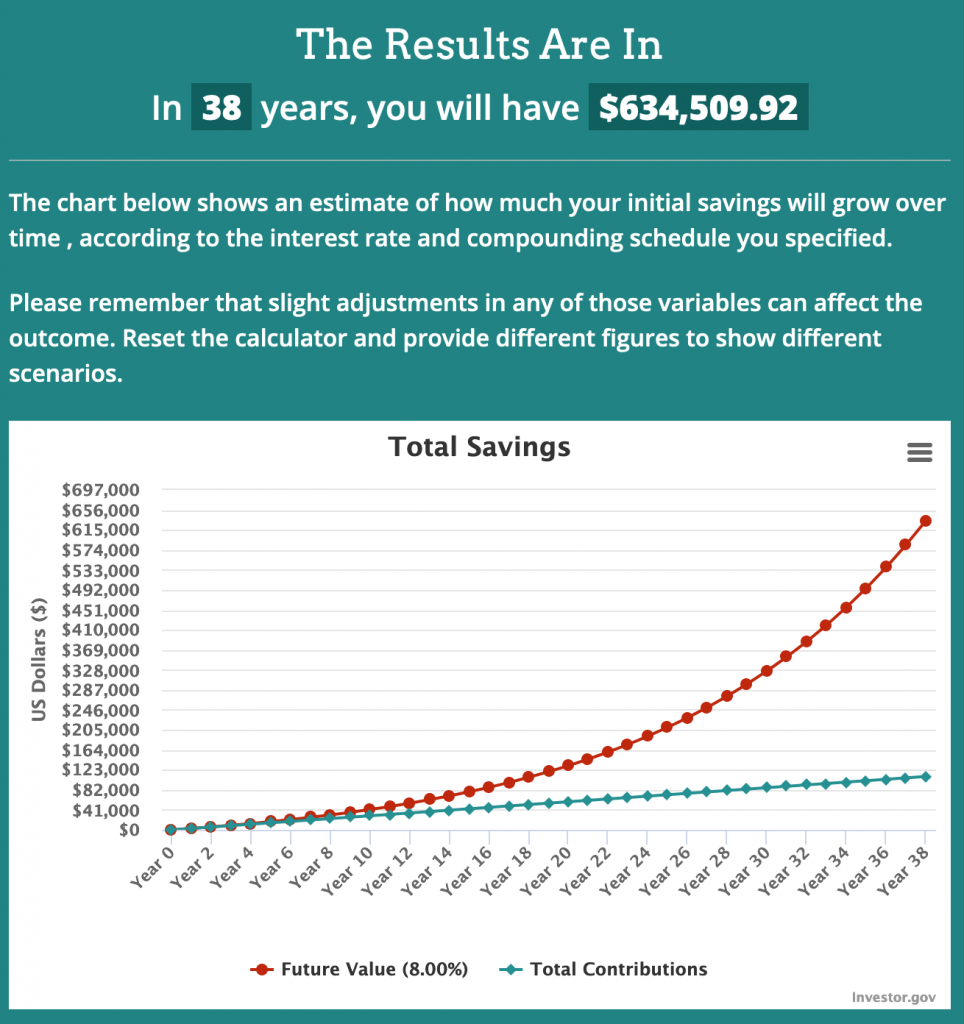 In 38 years, we would have $634,509 in our investment account just by switching to happy hour from normal dinners and drinks out.
Again, mileage will vary, but if you're looking to squeeze out some additional savings from your monthly budget, try treating yourself to happy hour drinks and food instead of going during the prime time hours. The savings is real and it's only a minor change in behavior. Plus, if you can make this change a habit, you're looking at real long-term wealth if you do better things with that savings.
The Case for Happy Hour Savings
Okay, I've said my peace. I think happy hour is a GREAT hack for feeling like you can still go out and eat and drink new things without breaking the bank. Get creative! Try a different happy hour each week for a couple months. It's so much fun to go enjoy eating out without having to kill your budget. And it's nice that you'll typically never have to wait for a table like you would at 7:30 PM.
If you're from Scottsdale and you're reading this, try Hulas or Zuzu. Those are my favorites.
Signing off,
The Frugal Feline.